Welcome to Sol Ballroom Dance!


We make learning to dance

Easy & Fun!

We are thrilled to welcome you to the Sol Ballroom Dance Center - Las Cruces' only center for partner dance education, entertainment and teacher training. Featuring a unique "Sol system of learning" dancers of every age and ability will enjoy dancing all styles of ballroom, Latin, swing, country, and nightclub dances! Sol Ballroom offers group dance classes, individualized programs, FRIDAY NIGHT Sol Dance parties, teacher training, youth classes, wedding preparation, quinceañeras, dance fitness, special events, and more.

No experience needed! No partner necessary! Every body welcome! Thank you for choosing Sol Ballroom. We look forward to dancing with you!

---


As we enter into our 5th year of existance in Las Cruces, we are GRATEFUL FOR YOUR SUPPORT! Thank you for naming us:

2023 LAS CRUCES BULLETIN'S BEST OF MESILLA VALLEY BEST DANCE STUDIO AND BEST NIGHTCLUB. RUNNER UP BEST DANCE CLUB

2022 LAS CRUCES SUN NEWS' BEST OF THE BEST RUNNER UP BEST DANCE STUDIO - BEST DANCE SCHOOL - BEST PLACE TO GO DANCING!

WE LOOK FORWARD TO MANY DANCES TO COME!

And NOW, it's time to get nominating again STARTING MARCH 6TH. Visit: https://lcsun-news.gannettcontests.com/2023-Best-of-the-Best-Mesilla-Valley/
Thank you for your support!


NEW SERIES BEGINS APRIL 4TH

REGRISRATION NOW OPEN

SPACE IS LIMITED!


So succeesful, we are excited to offer this amazing series dance class for a second time. Join us for this AWESOME GROUP DANCE EXPERIENCE!
Beginning April 4th, we are thrilled to share Hannah's nationally acclaimed dance education program - THE SOCIAL DANCE SERIES. First created in 1996, this program has successfully taught thousands of dancers across the USA to become confident, knowledgeable, and expressive on every dance floor.
There is no better (or quicker) way to become a GREAT social dancer in a group setting! WE MAKE LEARNING TO DANCE EASY & FUN!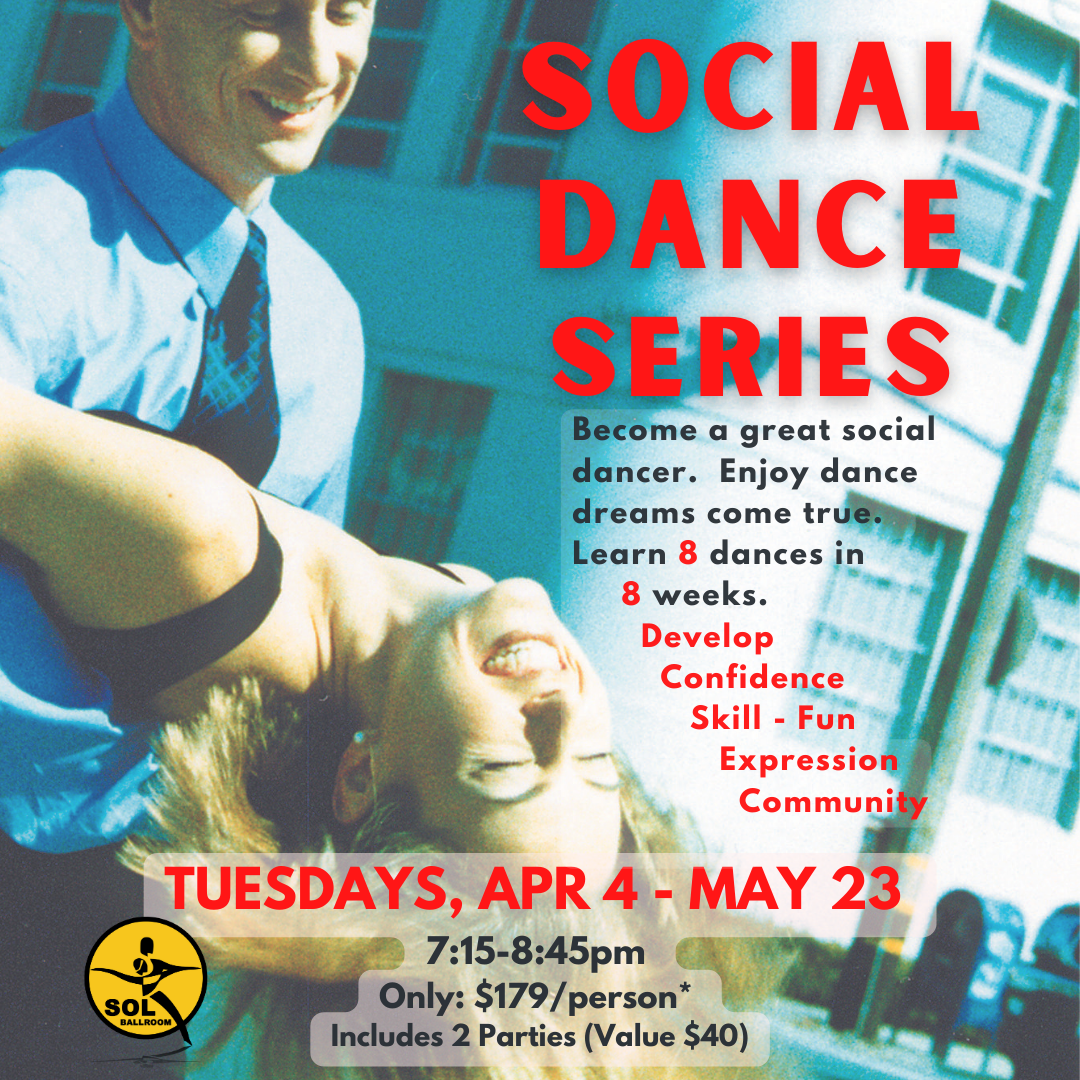 In just EIGHT (8) weeks, you will learn EIGHT (8) Ballroom, Latin and Swing dances (PLUS, a few others...). You will become confident in your ability to dance with partners in all styles. You will gain proficiency in identifying the different musical genres and will learn to express yourself freely. You will gain a community of dancing friends. You will have a BLAST!

Perfect for those who have never danced before, for those who need a little refresher, and also for those who just want a lot of great weekly practice. NO PARTNER NEEDED! NO EXPERIENCE NECESSARY! EVERY BODY WELCOME! SPACE IS LIMITED! JOIN TODAY!
TUESDAYS, April 4th - May 23rd
-

7:15 - 8:45pm





ONLY $179/person* INCLUDES 12 hours instruction PLUS, 2 EOFN SOL Dance Parties (Value $40 - one to be used at leisure, 2nd on Friday, March 24th for Graduation Party). *plus NM GRT



YOU MUST REGISTER IN ADVANCE - NO DROP INS - SPACE IS LIMITED & CLASS WILL BE BALANCED SO EVERYONE HAS A PARTNER.
DON'T GET LEFT ON THE WAITLIST...
REGISTER NOW to assure your place on the dance floor.
---

LET'S PARTY - NOW!


It's time to get lucky at this dance party. Join us for a super combo of the best Ballroom, Latin, Swing, Country and Nightclub dances. Take a bite of each and enjoy an amazing evening filled with fun and the best dancers in town. It's Hannah's birthday month so there are sure to be added lots of extras. Don't miss it!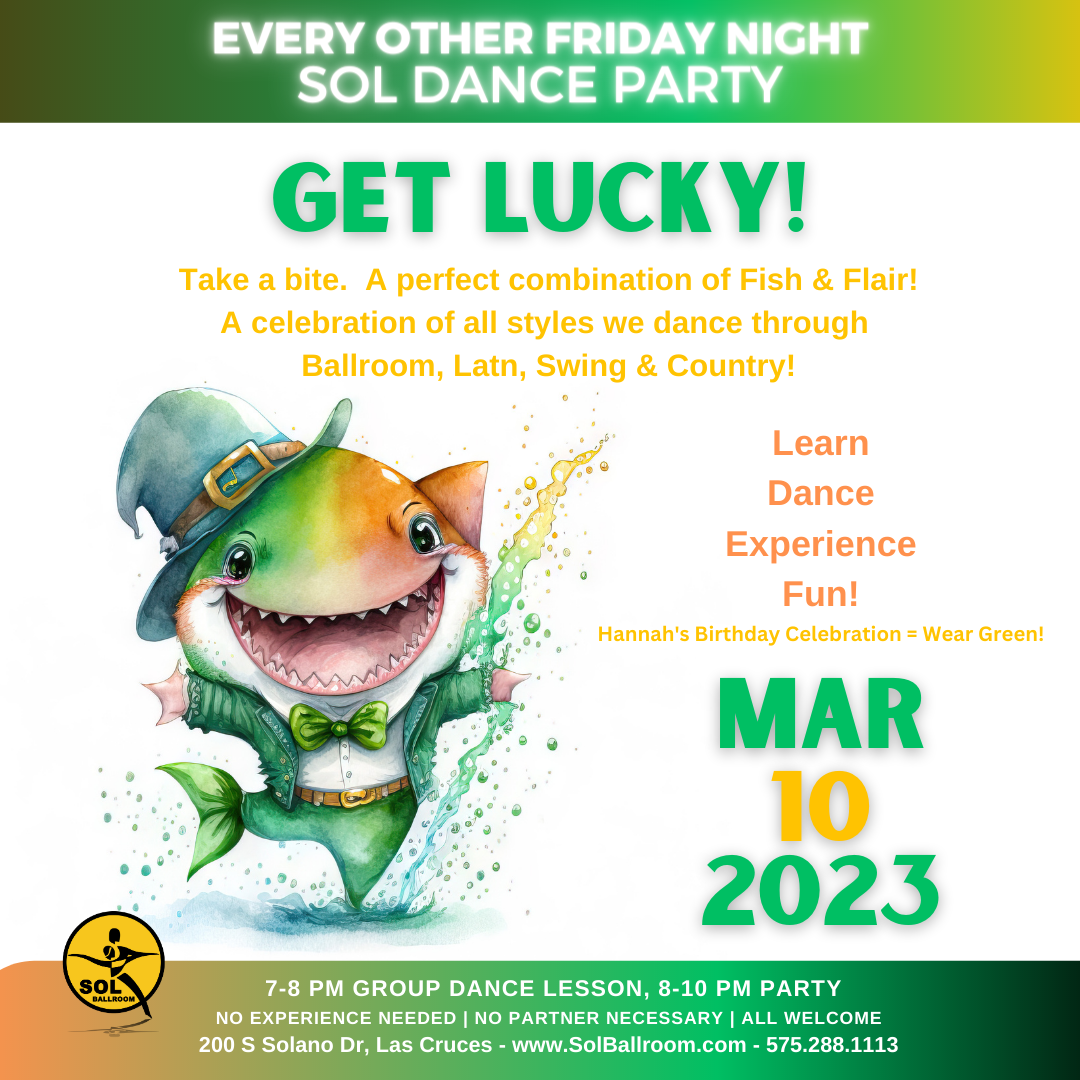 NO EXPERIENCE NEEDED! NO PARTNER NECESSARY! EVERY BODY WELCOME!
✨
Don't miss this dance experience. Plus, enjoy the best Ballroom, Latin, Swing and Nightclub dance tunes throughout the evening. AND, performances by Sol Ballroom Staff & Students.
✨
7pm Group Dance Lesson
8-10pm Dance Party
🥳
SOL GUARANTEE: We will keep you dancing all night long if you let us no matter your level of experience - and bonus points if you do.


NEW YEAR - NEW YOU...

WE MAKE DANCE DREAMS COME TRUE!



NO BETTER WAY TO GET STARTED - NO BETTER TIME THAN NOW!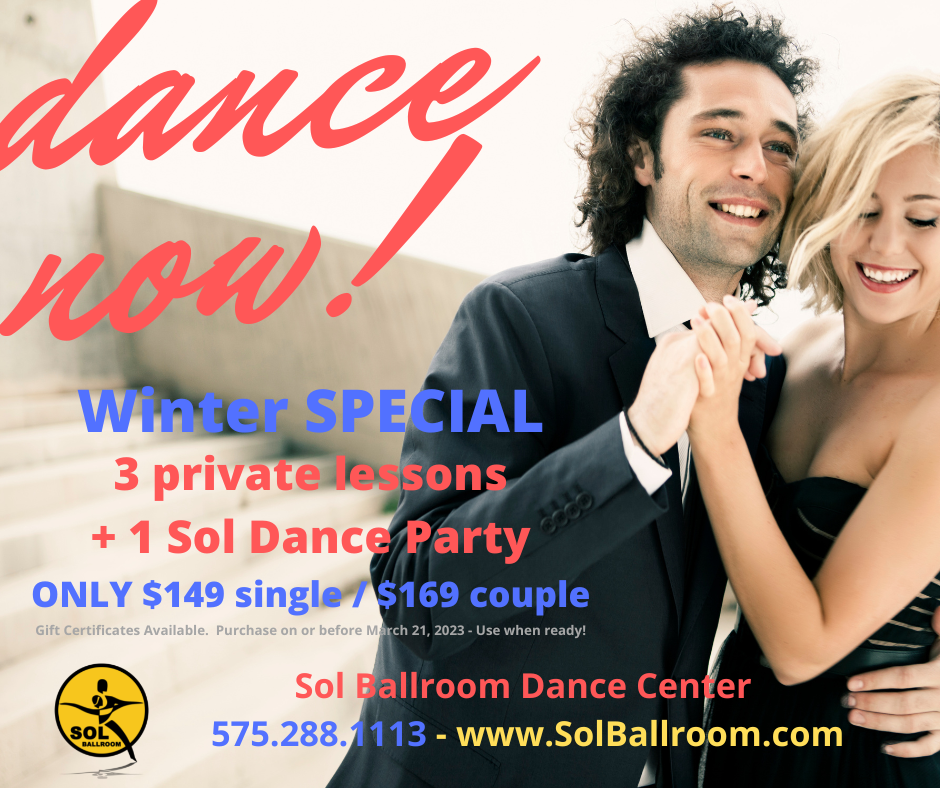 ---
Let us tailor a special program just for you based on your desires and abilities. Let us help you become a great social dancer this season. Enjoy THREE individualized dance lessons plus a Friday night lesson and party - just you (single or couple) and your instructor on the way to achieving your dance dreams. ONLY $149/single - $169/couple* *Plus NM GRT. New students only, must purchase on or before November 30th, 2022. Package must be used within 30 days once beginning. Gift certificates available to be used when ready.
---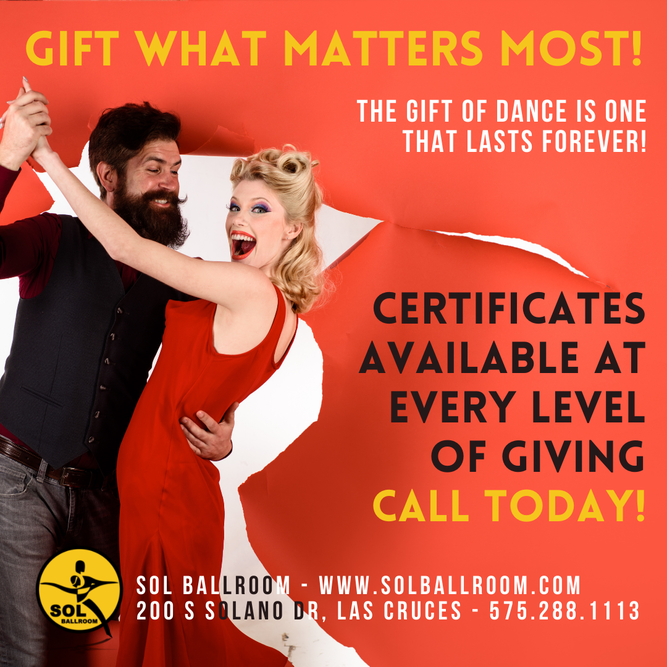 ---

CHECK OUT MORE UPCOMING

PARTIES & EVENTS

CLICK HERE!

| | |
| --- | --- |
| | Every Other Friday Night Sol Dance Party: Join us EVERY OTHER Friday night for our super fun social dance party. Each week you will learn TWO different dances and then dance the night away to the best Ballroom, Latin, Swing, Country and Nightclub dance music. No Partner? No problem! No Experience? Enjoy the Sol Guarantee: We promise to keep you dancing ALL NIGHT LONG no matter how experienced you are. WE WILL TEACH YOU! Check out the CLASS SCHEDULE for monthly featured dances. |
Shall We Dance? Private Lesson Special

AVAILABLE NOW!!!
The best way to get started with a little one-on-one attention that will take your dancing to new heights!
The Shall We Dance? special includes five individual dance lessons with one of our Sol instructors. Learn to dance at your own pace and according to your personal schedule. Private lessons are the quickest way to become a great dancer.
Only $249* - SAVE up to $146
*Lessons are 45 minutes long. NM GRT not included in price. For new students only. Package valid for singles or
couples. Limit one.

At Sol Ballroom, we are committed to your

health, safety and dancing!


These past few years have been tough for all of us and your health continues as our main priority. We are doing our best to keep everyone dancing safely through these times. We have consistently maintained the highest level safety protocols possible.

At this moment, masks are optional yet we still require hand washing and continue our Sol Safety Agreements. Plus, our HEPA air filters give us new air every 20-30 minutes and you will find our studio as clean as can be - now and always.

We are still working to get back to some of the things we used to offer... COMING SOON... weekly group classes, more social dance parties, kids classes, dance fitness classes and more.

We are thrilled to currently be offering individualized lessons, dance parties EVERY OTHER FRIDAY, Adult Ballet technique & choreography and ongoing Ballroom Dance Teachers Academy courses. We can't wait to dance with YOU!


Coming to you again very soon!!!


Live a life you love! Learn to dance!