Welcome to Sol Ballroom Dance!


We make learning to dance

Easy & Fun!

We are thrilled to welcome you to the Sol Ballroom Dance Center - Las Cruces' only center for partner dance education, entertainment and teacher training. Featuring a unique "Sol system of learning" dancers of every age and ability will enjoy dancing all styles of ballroom, Latin, swing, country, and nightclub dances! Sol Ballroom offers group dance classes, individualized programs, FRIDAY NIGHT Sol Dance parties, teacher training, youth classes, wedding preparation, quinceañeras, dance fitness, special events, and more.

No experience needed! No partner necessary! Every body welcome! Thank you for choosing Sol Ballroom. We look forward to dancing with you!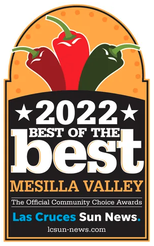 WE ARE SO GRATEFUL THAT YOU HAVE CHOSEN US AS A BEST OF THE BEST READER'S CHOICE AWARD FINALIST FOR BEST DANCE STUDIO - BEST DANCE SCHOOL - BEST PLACE TO GO DANCING! THANK YOU LAS CRUCES & SUN NEWS! AND THANK YOU FOR NOMINATING US FOR THE BULLETIN'S BEST OF MESILLA VALLEY FOR 'Best Dance Studio,' 'Best Dance Club' & 'Best Nightclub'. Regardless of results, we know the value we offer and cannot wait to share it with YOU!
---

NOW, SO MUCH TO ENJOY!

THIS SEASON


MAKE YOUR DANCE DREAMS COME TRUE...

ENJOY THIS SUPER SPECIAL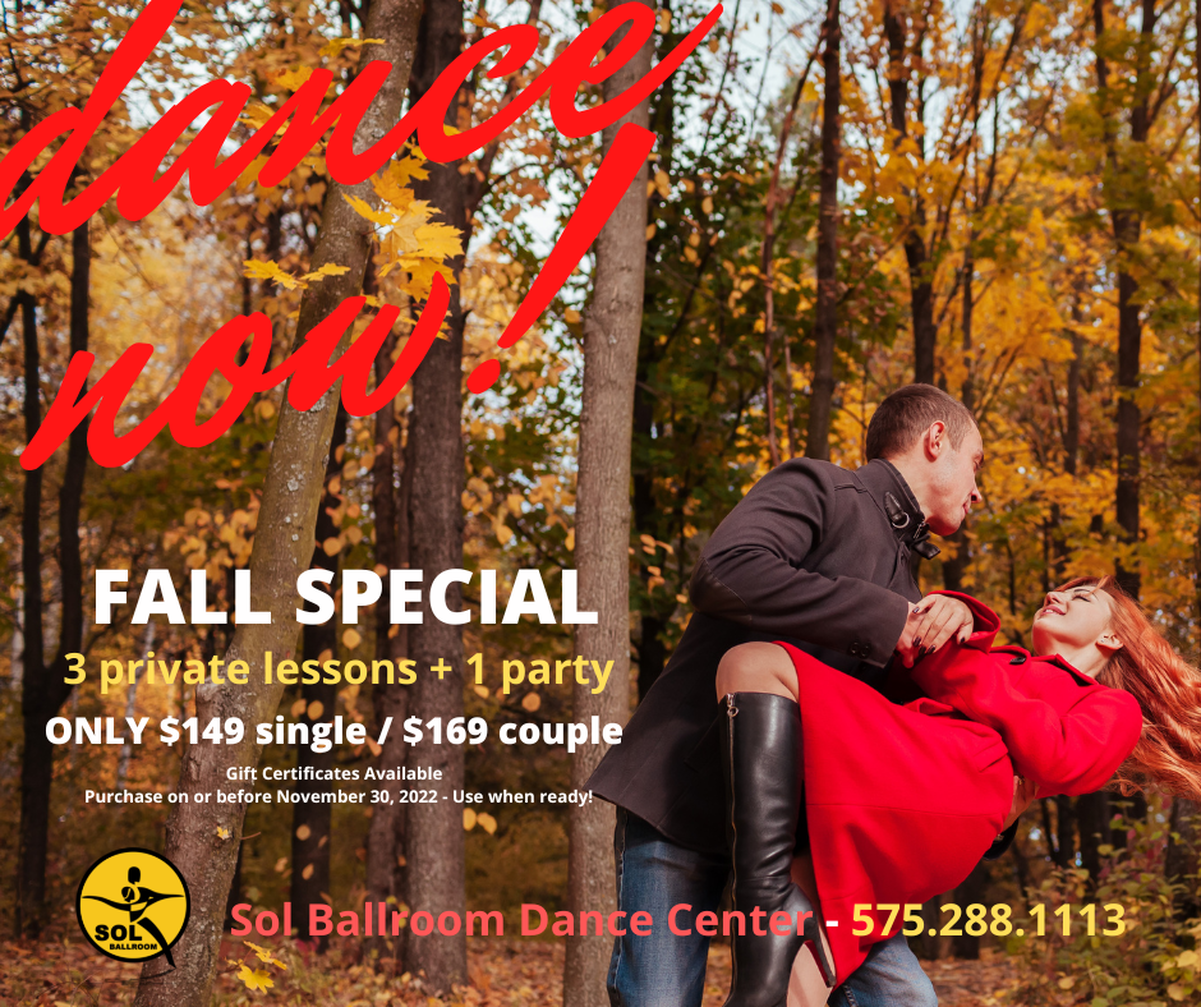 Let us tailor a special program just for you based on your desires and abilities. Let us help you become a great social dancer this season. Enjoy THREE individualized dance lessons plus a Friday night lesson and party - just you (single or couple) and your instructor on the way to achieving your dance dreams. ONLY $149/single - $169/couple* *Plus NM GRT. New students only, must purchase on or before November 30th, 2022. Package must be used within 30 days once beginning. Gift certificates available to be used when ready.
---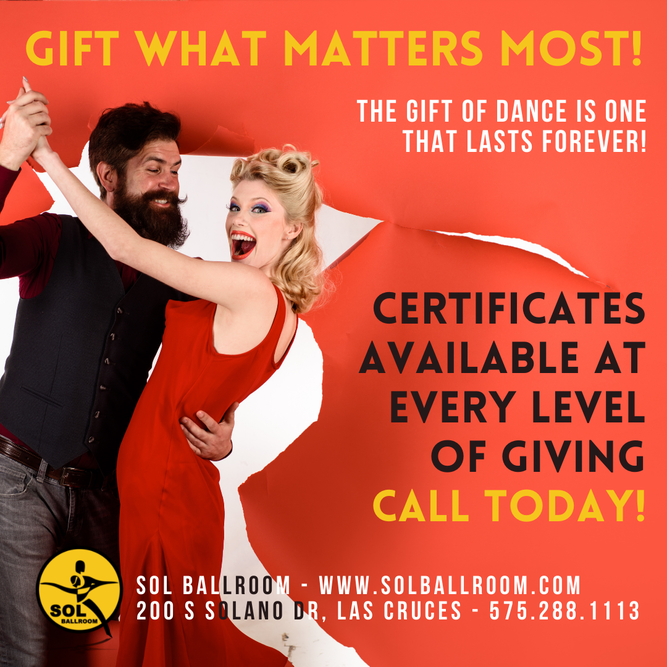 HAPPENING NOW!


You don't want to miss these end of 2022 dance opportunities... Reserve your spot today!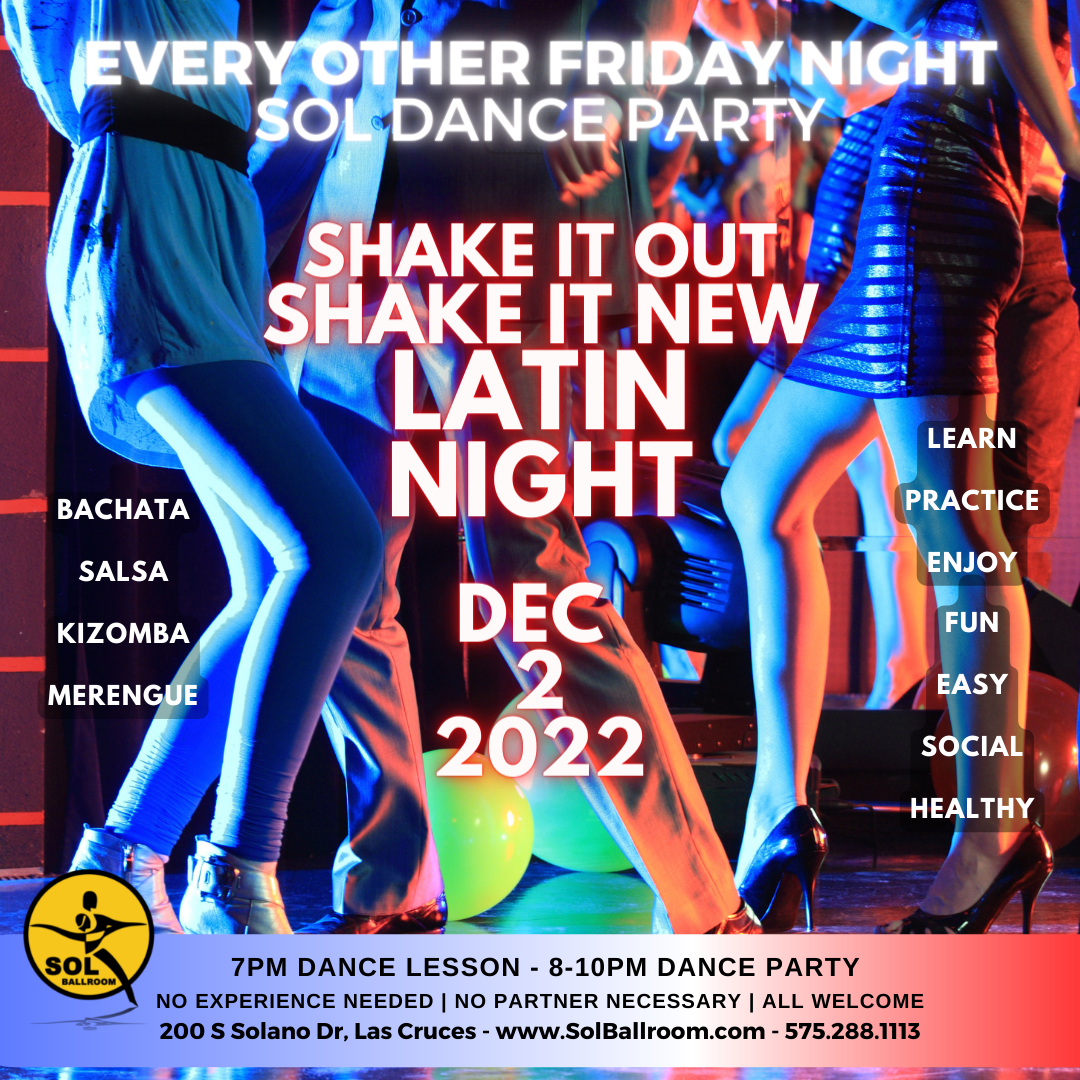 LAST CHANCE IN 2022! Together we will move and groove our way to the New Year

. Let's shake out the old and learn to shake it new!

Learn to dance the:

😀 Salsa.

😁 Bachata.

😍 Kizomba.

🥰 Merengue and more...

Enjoy an hour group lesson then get ready to dance the night away to all of the best Latin, Swing, Ballroom and Country music.

We make learning to dance EASY & FUN! No Partner Needed! No Experience Necessary! Every Body Welcome! SOL GUARANTEE: We will keep you dancing ALL NIGHT LONG IF YOU LET US and bonus points if you do!

JOIN US! YOU WILL BE GRATEFUL IF YOU DO!
Only: $20/Adult, $11/Student under 21, $FREE/Under 12 -
Includes lesson, dance party, snacks, beverages and tax.
---
Join us for the best party of 2022!

​SEATS ARE LIMITED & WILL SELL OUT!

RESERVE YOURS TODAY!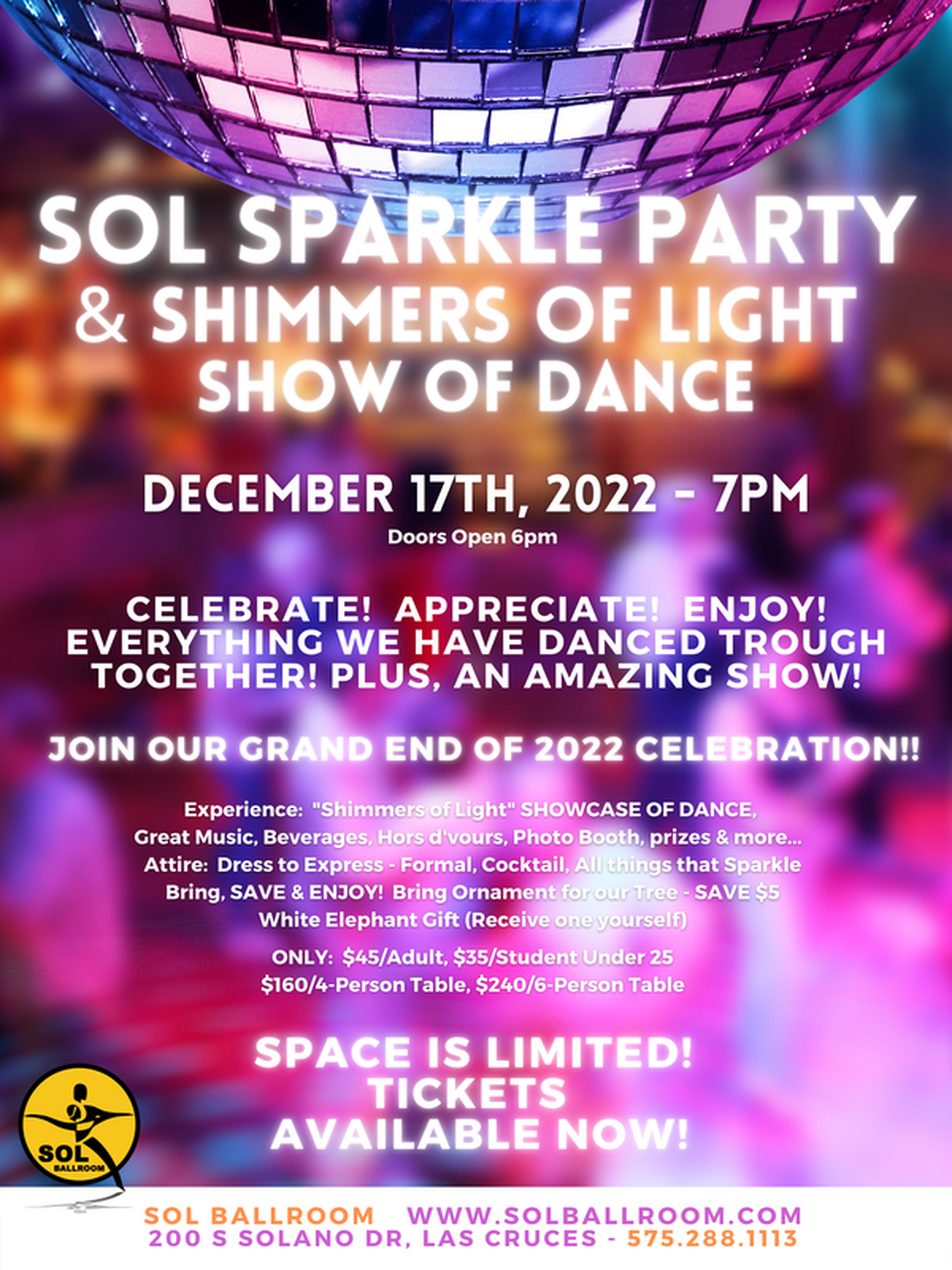 Our sparkle party was so incredibly enjoyed last year we have decided to do it again. And we have now combined it with our beautiful winter stories showcase of dance. Thus, we bring to you the best of both. Experience + Brilliance combined. An AWESOME SPARKLE PARTY meets 'Shimmers of Light' SHOW OF DANCE! You are in for a real treat!

A TIME TO CELEBRATE! ALL THAT 2022 HAS BROUGHT AND ALL THAT 2023 WILL BECOME! LET'S MAKE THE MAGIC HAPPEN!

A red carpet event. An opportunity to strut your best and sparkle with the rest of us at Sol Ballroom. Enjoy fabulously crafted hors d'oeuvres, beverages, fun dances, great music, prizes, fun and more... AND MOST OF ALL... Enjoy our 'Shimmers of Light' SHOW OF DANCE by THE SOL DANCERS! We can't wait to share our dance stories with you.

EXPERIENCE: A transformed, very sparkly, red carpet environment, delicious bites, social time, dance time, 'Shimmers of Light' showcase of dance, photo space, fun dances, great music, prizes, fun and more... DRESS TO EXPRESS: Formal, Cocktail, Super Sparkle no matter what.. RED CARPET!!! SAVE: Bring an ornament - earn $5 PLUS White Elephant Gift Exchange (Bring one, enjoy one!)

PURCHASE ON/BEFORE DECEMBER 9TH & SAVE $5/TICKET. SEATS ARE LIMITED - EVENT IS TABLE SEATED - RESERVE EARLY! FIVE OPTIONS. RESERVE YOUR SPOT TODAY! EARLY RESERVATIONS GET BEST SEATS... WE CAN'T WAIT TO DANCE WITH YOU.

BONUS: Join us a night early on DECEMBER 16th at 7pm for a special "Buff up on Basics" Group Class - ONLY $10 when added onto your Sparkle Party Ticket. This special class will give you everything you need to fully enjoy the SPARKLE PARTY & SHOWCASE.


---

CHECK OUT MORE UPCOMING

PARTIES & EVENTS

CLICK HERE!

| | |
| --- | --- |
| | Every Other Friday Night Sol Dance Party: Join us EVERY OTHER Friday night for our super fun social dance party. Each week you will learn TWO different dances and then dance the night away to the best Ballroom, Latin, Swing, Country and Nightclub dance music. No Partner? No problem! No Experience? Enjoy the Sol Guarantee: We promise to keep you dancing ALL NIGHT LONG no matter how experienced you are. WE WILL TEACH YOU! Check out the CLASS SCHEDULE for monthly featured dances. |
Shall We Dance? Private Lesson Special

AVAILABLE NOW!!!
The best way to get started with a little one-on-one attention that will take your dancing to new heights!
The Shall We Dance? special includes five individual dance lessons with one of our Sol instructors. Learn to dance at your own pace and according to your personal schedule. Private lessons are the quickest way to become a great dancer.
Only $249* - SAVE up to $146
*Lessons are 45 minutes long. NM GRT not included in price. For new customers only. Package valid for singles or couples. Limit one.

At Sol Ballroom, we are committed to your

health, safety and dancing!


These past few years have been tough for all of us and your health continues as our main priority. We are doing our best to keep everyone dancing safely through these times. We have consistently maintained the highest level safety protocols possible.

At this moment, masks are optional yet we still require hand washing and continue our Sol Safety Agreements. Plus, our HEPA air filters give us new air every 20-30 minutes and you will find our studio as clean as can be - now and always.

We are still working to get back to some of the things we used to offer... COMING SOON... weekly group classes, more social dance parties, kids classes, dance fitness classes and more.

We are thrilled to currently be offering individualized lessons, dance parties EVERY OTHER FRIDAY, Adult Ballet technique & choreography and ongoing Ballroom Dance Teachers Academy courses. We can't wait to dance with YOU!


Coming to you again very soon!!!


GROUP CLASSES

We can't wait to get back to these. Due to 'you know what,' group activities were suspended in March 2020, AND they will be back!



Learn new moves!
Group classes start at the beginning of each month and with many weekly series classes to choose from, you are sure to find an affordable and enjoyable option. Take one series class or take advantage of the Dance-A-Lot! special for TWO MONTHS of UNLIMITED DANCING and learn them all. Series classes means you will review, progress, and practice every week. Miss the first week? No problem, you can begin the second week. Not sure? Drop in the first week.

DANCE-A-LOT! Unlimited Group Classes for TWO MONTHS!

AVAILABLE AGAIN VERY SOON!!!
Enjoy the physical, social and cognitive benefits of dance in an affordable way!
It has been shown that ballroom dancing three times a week can offset Alzheimers and Dementia by 76%. It can also enhance a few other capabilities... Enjoy one or all of the adult group dance classes we offer for two full months. It's a great way to get started with dance and with Sol Ballroom. And with at least 6 classes a week, you will pay only $3/class or less. Package begins at the start of any 4-week session of classes.
Introductory Special - Get a GREAT Introduction!





---

AVAILABLE AGAIN VERY SOON!!!
Take full advantage of the Sol System of Learning!
The best way to get to know all Sol Ballroom has to offer and to take advantage of the Sol System of Learning. The perfect combination of groups, private lessons and social practice is by far, the quickest way to learn, to integrate, and to enjoy your new skill.

Package includes: three individualized lessons, one 4-week group class, and one EOFN Sol Dance Party.

Live a life you love! Learn to dance!